In Season: October
In Season: October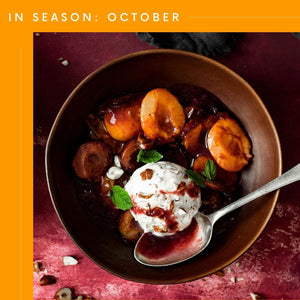 It's not just leaves that change colour in autumn, you'll notice some differences on your plate too.
Whilst summer shelves are stocked with tender salad leaves, sweet baby vegetables and a glut of juicy red cherries and plums, October sees a shift towards the rich purples and vibrant orange of root vegetables, gourds and the more robust leafy greens.   
October is one of richest months in the UK food calendar so this is a brilliant time of year to celebrate British produce. Click here to download seasonal recipes using our favourite October ingredients.
Fruit
Figs
Melon 
Pears
Plums

Vegetables
Aubergine
Beetroot
Butternut squash
Carrots
Chicory
Celeriac 
Kale
Swede

Meat
Duck
Lamb

Fish and seafood
Haddock
Mackerel
Salmon