In Season: May
In Season: May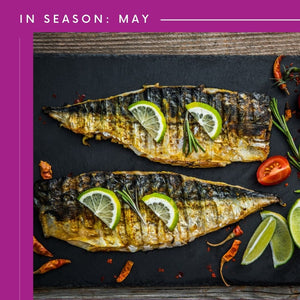 Fresh, varied and attractively appealing, May's ingredients mark a real shift in seasons.
May Day used to be a festival of food and agriculture. Today, you're more likely to see a Morris Dancer. However, there is still an abundance of fresh produce to celebrate and enjoy.
Fish is really exceptional, with rich, oily mackerel and meaty halibut at their peak and both work well with nutty, sweet Jersey Royals. On the side, opt for broad beans, pak choi or delicate lamb's lettuce.
Fruit
Cucumber
Pomegranate
Loquats
Vegetables, Roots and Salad
Pak Choi
Lambs Lettuce
Jersey Royals
Broad Beans
Carrots
Spring Onions
Meat
Beef
Spring Lamb
Fish and seafood
Tuna
Salmon
Mackerel
Halibut