Supplier Spotlight: Clarence Court
Supplier Spotlight: Clarence Court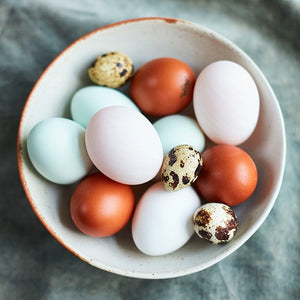 Eggs with a Patagonian pedigree
In 1928, horticulturist Clarence Elliott returned from Patagonia to picturesque Stow-on-the Wold in Gloucestershire. Amongst his unusual cargo of flora and fauna were three Araucana hens.
The three hens were sent to the University of Cambridge where they were corssbred to create a legacy of pedigree hens that, right up to the present day, lay beautiful pale and coloured-shelled eggs with the richest, deepest golden yolks.
Today, the Clarence Court flock roam freely around the estate in daylight hours, enjoying a maize-enriched diet, including wheat, sunflower, seashell, soya, paprika and marigold.
All Clarence Court farmers are specialists in their field and truly passionate about the birds they raise. If you need evidence of their care, just look at those golden yolks!
Click here to discover the Clarence Court range.