Supplier Spotlight: The Polish Bakery
Supplier Spotlight: The Polish Bakery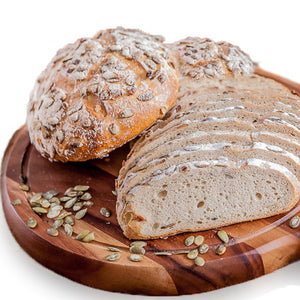 Although their baked goods are made in Wembley, The Polish Bakery supply"real Polish bread, made the real Polish way". 
Established in 2003, The Polish Bakery is the oldest Polish bakery in the UK. Over the last 17 years the family team have expanded their product range to all kinds of savoury and sweet breads, which we are thrilled to be able to offer on Osolocal2u.
Bread has long been a key part of Polish culture, giving much needed energy to rural workers and city-dwellers alike. The Polish Bakery produce all their sourdough loaves using traditional ingredients, sourced from Poland, without any artificial preservatives.
The team bake fresh loaves everyday so you can always be assured that you are receiving the highest quality bread with amazing taste, smell and texture. 
Try The Polish Bakery range today
For the real Polish experience, why not make one of these sandwiches for lunch:
1. Open Sandwich - layer ham, cheese and tomato and add a pinch of salt and pepper on top.
2. Smalec (pronounced SMAH-lets) - a Polish spread made from rendered pork fat and flavoured with onions. Top with onions or pickles for extra flavour.
3. Summer Jam - spread slices of sourdough with homemade apple or strawberry jam - yum!