Supplier Spotlight: The Original Black Garlic
Supplier Spotlight: The Original Black Garlic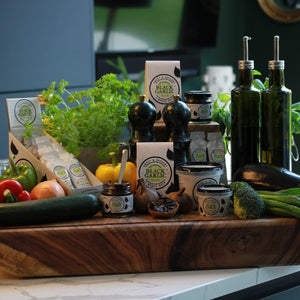 Never cooked with black garlic? It could be your new go-to ingredient.
Black Garlic is a common ingredient in Eastern cuisines but it's only recently become a British favourite. The Original Black Garlic has been at the forefront of its rise in popularity.
Katy Heath first discovered black garlic in Asia. She loved the flavour and started importing it for the UK market. However, in true entrepreneurial fashion, she soon decided to start making her own.
Katy used her research and flourishing expertise to design a new production facility in Bedfordshire. Before long, Katy's brother Richard came aboard and he too is now one of the world's leading experts on producing top quality black garlic.
But how do I use it?
You may not have cooked with black garlic before but trust us, it's a real game-changer. Carefully aged at a strictly regulated temperature and humidity, The Original Black Garlic has a sticky consistency. This ageing process makes the cloves much more mellow than their raw counterparts and they have a rich, molasses-like flavour, almost like balsamic vinegar.
The Original Black Garlic Managing Director Mark suggests adding thin slices to scrambled eggs, stirring it into ragu Bolognese or for adding depth to stock for risottos and stews. It can also be used in marinades or as a rub for a variety of meats.