Supplier Spotlight: Crosta & Mollica
Supplier Spotlight: Crosta & Mollica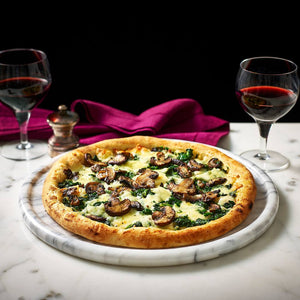 Authentic Italian flavour
Straight out of university, Crosta & Mollica founder James landed himself a job with a company that imported Italian fruit. James would travel to Italy, driving through the beautiful countryside to visit the farmers and families who produced the most delicious food. Unsurprisingly, James fell completely in love with the flavours and smells of Italian cuisine, taking a particular liking to the regional breads and bakery products on offer across the country.
Italian food culture is entwined with family life. Friends and family frequently come together over tables laden with fresh dishes, made to carefully-guarded family recipes. In founding Crosta & Mollica (which translates as "crust & crumb") James has captured this shared enjoyment in every product.
A pizza happiness
The Crosta & Mollica Pizzeria range is made in Italy by artisan bakers, using only the finest Italian ingredients. The sourdough is slow-proved for 24 hours for an extra light and flavoursome dough. Once shaped, the bases are topped and then baked in a wood-fired oven to develop a puffed up, lightly charred crust, or "cornicione" as it is known in Italian.
The pizzas are the perfect sharing option for a light supper or tasty lunch. However, you may want to cook two at once as they are rather irresistible!
Here's a roundup of the flavours available here on Osolocal2u:
Margherita – the classic tomato, mozzarella and oregano
Fiorentina – mushroom, spinach and creamy garlic sauce
Imperia – prosciutto cotto, pesto and creamy garlic
Stromboli – spicy salami, calabrese and ventricina