Supplier Spotlight: We Love Cake
Supplier Spotlight: We Love Cake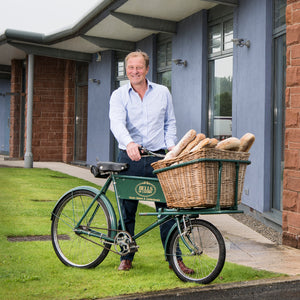 The festive season is marked by tradition, and the team behind our We Love Cake mince pies have over 70 years' experience to draw on.
We Love Cake is one of four brands under the Bells of Lazonby bakery banner. Bells of Lazonby was founded by John Bell in 1946. He was a fighter pilot during the war and on his return, moved his family to Cumbria where he established a small bakery and shop. In 1947 John diversified into home deliveries – something that sounds very familiar to us today!
Whilst many of us can enjoy all kinds of breads, cakes and pastries, it can be more difficult for people living with allergies and intolerances. In 2001, Michael Bell (John's son and successor) tried living as a Coeliac for a week but was disappointed by the cakes available on the market. With his ambition to deliver the best for everyone, Michael commissioned the UK's first dedicated free-from factory and We Love Cake was born. All We Love Cake products are gluten and wheat free, and the business is Coeliac verified. Their mince pies are also milk free.
If you've ever tried gluten free pastry and been disappointed, We Love Cake could be the company to change your mind. Their highly skilled development team have tried and tested lots of ingredients, methods and mixes to ensure that their gluten free products are every bit as tasty as the wheat-based pastries John was making in the 1940s.