Supplier Spotlight: Suma Wholefoods
Supplier Spotlight: Suma Wholefoods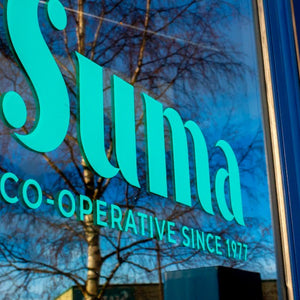 A wholefood collective 'doing a little bit of good, and hoping for a little bit of change'
Suma was founded in 1977 by a liberally-minded group who set out to create a values-based co-operative focused on sustainability.
Suma is owned and run by the 200 people who work there. Everyone is paid the same wage and included in the co-op's decision-making process. They even share roles, switching from driving Suma's fleet of trucks to adding up the accounts.
What is the Suma way?
Suma partner with local food banks and serve unsellable food in their canteen. All their products are cruelty-free and they take pride in unearthing quality Fairtrade, organic and locally-sourced products.
As well as building sustainability into their own operations, Suma spread their green wings to the wider world. In partnership with environmental group Treesponsibility on their CO2mittment scheme, Suma plants in the region of 5,300 trees each year to offset the carbon produced by their fleet of delivery trucks. They also help maintain the Calder River, which runs close to their site, litter picking and removing invasive species which threaten the surrounding ecosystem
Like the sound of Suma? Click here to shop our range of Suma soups, tins and store cupboard ingredients.