Supplier Spotlight: Sublime Flavoured Butter
Supplier Spotlight: Sublime Flavoured Butter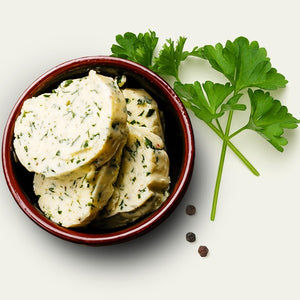 Premium butter inspired by the Sublime Society of the Beefsteak
The Sublime Society of the Beefsteak: it may sound like something out of a novel but this 18th Century London Club really did exist.
Its purpose? To celebrate the beefsteak as a symbol of patriotic values of liberty and prosperity.
How? At raucous lunches featuring songs, speeches and lashings of port.
Sublime now pack that spirit and frivolity into every roll of butter, churning the freshest milk from the herd at Somerset's Brue Valley Farm and flavouring it with the finest ingredients.
A sublime addition to many a meal
Whether it's topping a fine cut of steak with Sublime Béarnaise or adding a slick of Garlic & Herb to mashed potato, Sublime's butters will enliven all manner of dishes. Here are some suggestions:
RESTING
Chicken or fish? Whichever you've just taken out of the oven, add a pat of Sublime and sit, wait and savour as the butter melts, spreading flavour throughout your dish.
PASTA
Truffle, Parmesan & Black Pepper butter stirred through piping hot spaghetti. Need we say more?!
VEGETABLES
Opt for classic Garlic & Herb or add some zing with Chimichurri. Choose your butter, stir through roasted, boiled or steamed vegetables and you're good to go.
BREAD
Could we really write a butter blog and forget bread? No chance! Crusty, warm bread slathered in Sublime is, well… sublime. Enjoy!