One year on: Your favourite products
One year on: Your favourite products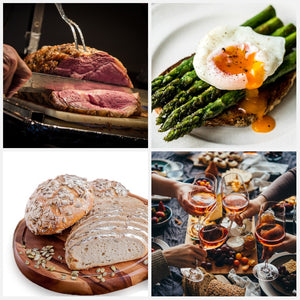 Wow! Can you believe it's been a year?
One year ago, our brilliant team of drivers made their first deliveries to doorsteps across London and along the south coast from Bournemouth to Eastbourne. Since then, you've helped us grow, letting us know what you'd like to see on the site and helping us improve our service. Together we've laughed about the size of gigantic onions and we've taken joy in your heartfelt messages and stories of lockdown life.
To those of you who have been with us since the beginning: Thank you. To our more recent customers: Welcome to the OsoCommunity. We look forward to delivering to you all again soon.
What are your top products?
When we first launched, osolocal2u.com was home to fruit, vegetables and a few essential groceries. Now our extensive range has grown to include meat, fish, eggs dairy, deli, bread and more from some of the country's leading suppliers. Here's a round up of your favourite products:
Top ten by units sold 
Your ultimate favourites
Breakfast
Top muesli, cereal or granola Spoon granola, dark choc zing
Top bread GRADZ No.22 yeast free wheat sourdough
Top jam Tiptree strawberry conserve
Tea & Coffee
Top tea Clipper organic & fairtrade everyday tea
Top coffee Kingdom fairtrade "wakey wakey" morning coffee
Deli & Cheese
Top speciality cheese Comte
Top cracker Miller's Damsel buttermilk wafers
Top chutney or condiment Stokes chilli jam
Top dip Black olive hummus
Fresh Food
Top eggs Clarence Court Burford Browns
Top fresh fish Salmon
Top meat Beef mince
Pre-prepared meals
Top fresh pasta La Tua spinach & ricotta ravioli
Top fresh pasta sauce Mattarello basil pesto
Top pie Mud steak & ale
Top pizza Crosta & Mollica margherita
Snacks & Treats
Top biscuit Biona Organic blueberry cookies
Top cake or dessert The Polish Bakery apple cake
Top crisps Tyrrell's lightly sea salted
Alcoholic drinks
Top sparkling wine or champagne NV Fiabesco, Prosecco Extra Dry DOC
Top white wine 2019 QL Vinho Verde, Quinta da Lixa
Top red wine 2019 Malbec, Bodegas Santa Anna
Top beer Corona
Top spirit or liqueur Baileys
Do these match your favourites? Or has this given you inspiration for new products to try? Let us know you top Osolocal2u product on Facebook, Twitter or Instagram.