Supplier Spotlight: Spoon Cereals
Supplier Spotlight: Spoon Cereals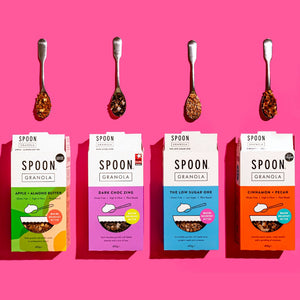 A spoonful of tasty, wholegrain cereal that will keep you going until lunch.
That's what Jonny and Annie were looking for when they launched Spoon Cereals from Jonny's home kitchen back in 2013.
Over the years they've drawn together a team of pe ople who are as passionate about breakfast as they are, and together they have developed a range of healthy mueslis and granolas with an interesting mix of flavour combinations.
Spoon's recipes are all about simplicity and that means their products are free from additives, artificial flavours and refined sugar. Instead they're nutritionally-packed with whole grains and fibre to give a great kick start to your day. Shop the range here.
Not just for breakfast
Spoon's mueslis and granolas aren't just for breakfast, they can also be used in puddings and other sweet treats. Add a box of Dark Choc Zing granola to your next order to bake a batch of these decadent cookies. They're a favourite with the Spoon team and we think you'll like them too:
Chewy Chocolate Granola Cookies
Makes 20 to 24 cookies
Ingredients
122g Dark Choc Zing granola
1/2tsp vanilla extract
1/2tsp baking powder
1/2tsp salt
114g unsalted butter
73g light brown sugar
67g granulated sugar
1 large egg
137g plain flour, sifted
Method
1. Pre-heat your oven to 160°C and lightly grease a large baking sheet with butter or cooking spray.
2. In a bowl, cream together the butter and both sugars. Once the mix is pale and fluffy, fold in your sifted flour and the baking powder. Next, add the granola and mix well.
3. Place spoonfuls of the mixture onto the greased baking tray and bake for 15 to 20 minutes until the cookies are light brown in colour but still soft in the middle.
4. Remove from the oven, leave to cool for five minutes on the baking tray and enjoy!