Supplier Spotlight: Odysea
Supplier Spotlight: Odysea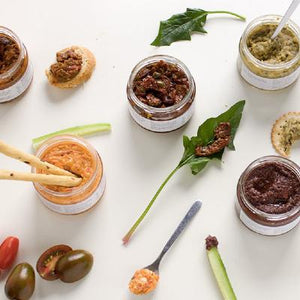 Panos Manuelides established Odysea in 1991, driven by his desire to bring the tastes of Greece to UK consumers.
The company we know today started life as a market stall, with Panos selling olives to passers by on Portobello Road. Demand was so high that he realised there was a gap in the market for more Mediterranean products and launched Odysea as a full-scale import business.
Although the business has grown, Odysea is still committed to delivering authentic flavour and quality. The team make regular trips to Greece to meet leading local producers and many of the products have been awarded Protected Designation of Origin (PDO) status.
Mediterranean food is renowned for its health-giving properties. Shop the Odysea range here on Osolocal2u.com for a taste of the sun.
Bring the taste of Greece to your table
If you've been to Greece, you will know that the locals love nothing more than coming together around a table heaving with fresh food – much like the team at Osolocal2u! To get you started on your Grecian odyssey, here is a recipe from Odysea's collection:
Baked Gigantes Beans with Spinach
This dish is great at a barbecue served alongside grilled meat or fish, Odysea's Flame-Roasted Red Peppers, Stuffed Vine Leaves and other mezze delights.
Serves 2
Ingredients
2 jars of Odysea Baked Gigantes Beans
200g spinach
10g fresh dill, roughly chopped
20g flaked almonds, toasted in a dry frying pan
1tbsp extra virgin olive oil
Method
Heat the olive oil in a frying pan and add the spinach, stirring occasionally until it has wilted.
Transfer the spinach to a sieve and leave it to drain over a bowl for a few minutes until it is cool enough to squeeze out any excess water.
Squeeze out the water and return the spinach to the pan, placing it over a low heat if you want to eat the dish warm or leaving it off the heat. Stir in the chopped dill and jars of beans. Transfer the mixture to your serving dish and scatter with toasted almonds to finish.
 Recipe by Milli Taylor, author of Party Perfect Bites