Supplier Spotlight: Longley Farm
Supplier Spotlight: Longley Farm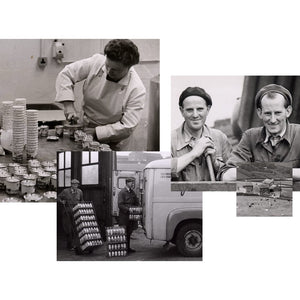 Yorkshire folk are characteristically proud of their roots and the Dickinson family and their valued workers have every right to be proud of their dairy products, filled with all the natural goodness of the pastures of "God's own country".
Longley Farm was founded in Holmfirth, West Yorkshire in 1948 by Joseph and Edgar Dickinson. Along with the land, the brothers also inherited a number of Jersey cows. They grew the herd and started producing cream in 1954.
Yogurts followed and after a visit to America in the 1970s, Joseph suggested that Longley Farm add Cottage Cheese to their product range, making them the first European company to make Cottage Cheese on an industrial scale.
The Dickinson brothers cared for the environment as much as their cows. To improve the sustainability of their operations, they installed Britain's first commercial wind turbine at Longley Farm in 1986. 
Joseph's son Jimmy took over operations in 1997. Over the years, the herd may have grown but Longley Farm's ethos of quality, goodness and traditional family values remains as strong as ever - the only real change is that the wind turbine had to be replaced with a newer model in 2015.
From 1948 to now - the highest quality dairy from the heart of Yorkshire
We stock a wide range of  Longley Farm products, including:
Flavoured yogurts - perfect for breakfast or a mid-afternoon pick-me-up
Single cream - pour it over fresh fruit for a simple dessert
Double cream - whip it up and pile it onto a pavlova
Cottage cheese - a protein-packed American classic 
Cream cheese - spread it on a piece of toast or make a decadent cream cheese frosting for your next bake
Crème Fraîche - add richness to savoury dishes or add a dollop to your pudding plate
Click here to shop the full Longley Farm range.