Supplier Spotlight: Porterford Butchers
Supplier Spotlight: Porterford Butchers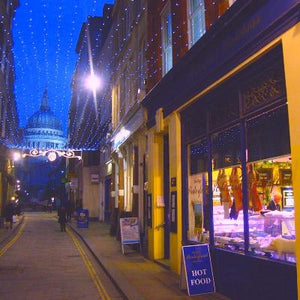 We are thrilled to offer fresh meat from Porterford Butchers, the only butchers shop within the Square Mile. We choose all our suppliers with real care, finding people who care about food and exceptional customer service as much as we do. 
Porterford Butchers was founded in 1983 by close friends Ron Flint and Michael Clements who opened their first shop at 6 Bow Lane. 20 years later they moved to new premises at 72 Watling Street, a stone's throw from St. Paul's Cathedral. Four years ago, Ron sadly passed away, and Michael now heads up the business with support from his two sons and grandsons. Just like our own business, Porterford is a real family enterprise and there is an even closer connection as Paul, our Transport Manager, is Michael's nephew.
Porterford offer an amazing selection of the highest quality meat. Much of it comes from Smithfield Market, alongside beef sourced directly from Scotbeef in Aberdeenshire and meat from local farms such as Blackwells in Cogeshall, Essex.
Michael and his team serve hot food to workers in the city and supply fresh meat to many restaurants and hotels within the local area. We are delighted to be able to offer their products to you on Osolocal2u, and we are even more pleased to have this recommendation from Michael on how to prepare the perfect burger at home:
Our favourite and most popular item has to be the gourmet beef burgers. The burgers are handmade with our own recipe and contain a hint of horseradish and parsley (supplied by Osolocal2u's sister company 4DegreesC). The burgers are best prepared on a barbecue or grill to get a light crisp outside and succulent tender inside.
We hope you enjoy your fresh butcher meats. Order online today and share a photo of your culinary achievements on Instagram or Facebook.