Supplier Spotlight: Blackwoods Cheese Company
Supplier Spotlight: Blackwoods Cheese Company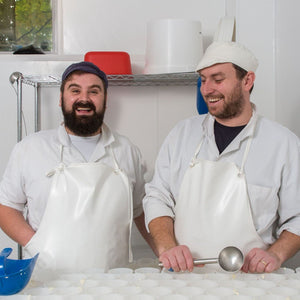 Tim Jarvis, David Holton and Rory Holwerda launched Blackwoods in 2013 with one clear aim: to bring Persian Fetta-style cheese into the UK market.

Whilst still working their full-time jobs, the trio converted an industrial unit in Brockley into a small dairy. From here they produced the first batches of their signature Graceburn, which proved so popular that what started as an ambitious sideline quickly became a full-time occupation.

In 2016, the team launched a crowdfunding campaign to raise the money they needed to move to a larger dairy on the organic farm in Kent where they have always sourced their milk.

Closer to their cows and with more space and the highest spec facilities, the team have been able to expand their range and improve their product. Blackwoods cheeses are a fine example of why home-grown British products have seen such a resurgence in recent years.
Graceburn is the first cheese the Blackwoods boys produced at their small site in Brockley. Made from raw, organic cow's milk the cheese is marinated in cold-pressed rapeseed oil, bay leaves, thyme, garlic and peppercorns.

Add Graceburn to a rocket salad or roasted vegetables, or mix it into a spinach and filo pie. To be honest, it's Osomoreish, you may just find yourself eating it straight from the jar!
Click here to shop for Graceburn and explore our other cheeses.