Supplier Spotlight: Clipper Tea
Supplier Spotlight: Clipper Tea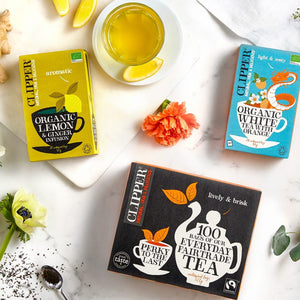 Natural, fair and delicious. That's the tagline you'll see under the Clipper logo and we think it sums up this conscientious company perfectly.
Dorset. 1984. A husband and wife obsessed with tea. That's the basic origin story of Clipper, the first UK tea company to achieve Fairtrade status back in 1994. 
Over those ten years from origin to official status, Lorraine and Mark Brehme developed their ambition to deliver ethically-sourced, traditional tea into one of the industry's most respected companies. 
They started the business with just two tea chests of Assam, which they delivered to local health shops and cafes in and around Beaminster. Today the Clipper range extends to all the teas you can imagine as well as coffee and indulgent hot chocolate. However, they've retained their local ties, and all Clipper teas are still blended in Dorset.
The most surprising fact about Clipper? They've even managed to convert the French!
Clipper went continental in 2013, launching first in France and then in Holland and Germany.
Jokes aside, their popularity is testament to all the hard work, love and commitment that goes into every cup of Clipper. Click here to discover what's on offer here on Osolocal2u.