Supplier Spotlight: Bonsan
Supplier Spotlight: Bonsan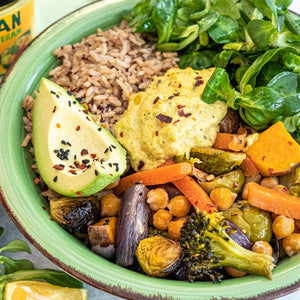 'We think vegan food should be nourishing, flavourful and fun'
If a company takes this approach to food, we're interested. With our selection of ingredients and recipes, we want to help you mix up mealtimes and try new things in amongst your weekly staples. Bonsan share that mission so really, we're a perfect match.
All Bonsan's Pâtés are meat free, dairy free, organic and there's a good chance they'll become a regular feature of your condiment collection. Here on Osolocal2u, we stock three of their top flavours:
White Bean & Mustard
Tomato & Lupin
Lentil & Turmeric
Make delicious, feel-good food at home
Wondering what to do with your jar of Bonsan Pâté? Read on for inspiration...
Any of these Pâtés are delicious in a sandwich, stirred through a casserole or spread over puff pastry and topped with roasted vegetables to make a truly tantalising tart. There are plenty of recipes over on the Bonsan website but here's one of our favourites: 
Roasted Veggie Nourish bowl
Serves 4
Ingredients:
2 tbsp olive oil
1 sweet potato, cut into 3/4″ cubes
2 carrots, sliced
100g brussels sprouts, halved 
100g broccoli, cut into florets
1/2 large red onion, sliced
1 can chickpeas, drained and rinsed
1 lemon, cut into six pieces
Salt & pepper

To serve
100g brown rice
5 oz. spinach
1 avocado
Big dollop of Bonsan Lentil & Turmeric Pâté


Method:
1. Preheat the oven to 400 degrees F.
2. Prepare vegetables: peel sweet potatoes and chop into cubes, peel the carrots if needed and half or quarter the brussels sprouts depending on the size.
3. Roast: Place vegetables, chickpeas and lemon in a large roasting pan or rimmed baking sheet. Toss with oil and sprinkle with salt & pepper to taste. Roast for 40 – 45 minutes, stirring halfway through. Vegetables should be slightly browned on the edges and fork tender. Remove from the oven and let cool for a few minutes.
4. Serve: In individual bowls, serve vegetables with rice, handful of leafy greens, sliced avocado and a nice dollop of the Bonsan Lentil & Turmeric Pâté.
5. Top with a sprinkle of red pepper flakes, black pepper and a squeeze of roasted lemons.