Supplier Spotlight: I AM NUT OK
Supplier Spotlight: I AM NUT OK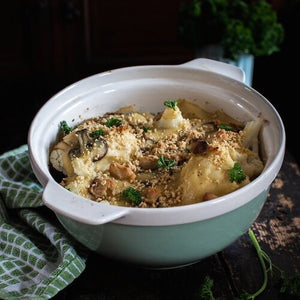 Nut your average cheese
Italian-American couple Nivi and Angela bonded over their love of food but when Nivi went vegan, they had one big concern: what about cheese?!
Their solution was to use their foodie and design know-how to launch I AM NUT OK and a range of vegan cheeses that are 'more daring than dairy'.
Hand-produced in small batches, Nivi and Angela's flavoursome and visually striking products aren't intended to replace cheese but to offer a different culinary experience that's just as delicious and utterly irresistible. Click here to browse the range.
A vegan take on a cheesy classic: Vegan Cheesy Cauliflower Bake

Recipe taken from iamnutok.com
INGREDIENTS
1 large head of cauliflower
One small onion
10 mushrooms
2tbsp vegetable oil
2 cloves of garlic

For white sauce:
6tbsp nutritional yeast
3tbsp flour
2tbsp vegan butter
2 cup vegan milk, we used unsweetened soy
Salt and pepper to taste

Top with:
I AM NUT OK cheese of choice
I AM NUT OK Parme-Sans Cheese
METHOD

1. Preheat your oven to 200 C. Slice onion and garlic and place in pan with a drizzle of oil over medium heat and cook until tender.

2. Chop mushrooms and add in with onion, cook until mushrooms are tender, and onions have begun to caramelize, stirring frequently.

3. Pull leaves and chop stem off of cauliflower. Pull cauliflower apart and place in pot. Add water to cover the cauliflower, place a lid on the pot, and bring to a boil. Cook until a fork easy goes through the cauliflower.

4. When onions, mushrooms, and cauliflower are cooked, add half the cauliflower to a large casserole dish, add the mushrooms and onions, and finish by adding the remaining cauliflower.

5. To make the white sauce, add nutritional yeast, flour, butter, milk, salt and pepper to a saucepan over medium to high heat. Whisk constantly until sauce thickens. This happens rather suddenly. If after 8 to 10 minutes the sauce does not thicken add an additional tablespoon of flour and continue stirring.

6. When the sauce has thickened immediately pour it over the cauliflower, mushrooms, and onions in the casserole dish, evenly coating everything.

7. Slice your I AM NUT OK cheese of choice and sprinkle over the top for bites of cheesy deliciousness. Finish with I AM NUT OK Parme-Sans Cheese

8. Bake in oven uncovered until cheese sauce is golden, approx. 10-15 minutes