Thai Ginger Beef Stir Fry by Gillian Parfitt
Thai Ginger Beef Stir Fry by Gillian Parfitt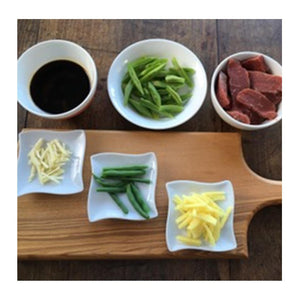 For four people – really quick to cook too and easily adapted for a meat free meal!

30g piece of fresh root ginger
2 tablespoons of peanut oil ( or vege oil for allergies)
600g beef rump steak
2 cloves of garlic crushed or very finely sliced
8 spring onions
120 grams of French beans ( or other beans that you may have)
2 teaspoons oyster sauce
1 tablespoon fish sauce
1 tablespoon soy sauce

Rice to serve with the dish – either Thai style or Jasmine


1. Place the beef, tightly wrapped in clingfilm into the freezer one hour before preparation as this helps you to slice it very thinly just before cooking. Slice it against the natural grain of the meat.
2. Stir fry the meat in small batches in the oil, just sear it and then remove from the pan. Doing this in small batches helps you keep the pan and oil hot and prevents the meat from overcooking when you add the other ingredients.
3. Mix together the oyster sauce, soy sauce and soy sauce. Peel and slice the ginger very finely and then cut it into matchstick sized pieces.
4. Prepare the spring onions by removing the root and any of the dark green top leaves. Slice into diagonal pieces about the same thickness as your beans.
5.Top and tail your French beans, if you have runner beans these work equally well, top and tail those too and maybe remove the sides with a peeler depending on their size. Cut these into diagonals too. Blanch your beans very quickly in boiling water and then refresh them under cold water to prevent them overcooking.
6. Cook your chosen rice according to the instructions on the packet, usually about 60 grams of dry rice is sufficient for one person but it's up to you!
7. Quickly and carefully fry the ginger and garlic – you don't want it to go brown and burn, just enough to soften the ginger and bring out the flavours, add the drained beans, spring onions and put the beef back into the pan, Bring this all together for a minute or so and then add your mixture of sauces. It really only takes another minute to coat all the beef and veg together before you are ready!! I like a bit extra of the sauce so I usually double the quantities above!