Plum Tarte au Fine with Vanilla Ice cream by Chef Chris Phypers
Plum Tarte au Fine with Vanilla Ice cream by Chef Chris Phypers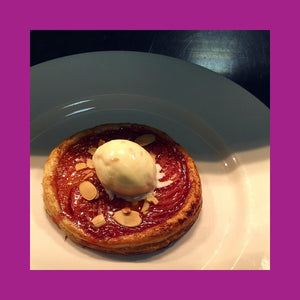 Ingredients
2 Large Eggs
100g Unsalted Butter
100g Caster Sugar
100g Ground Almonds
5g Plain Flour
200g Flaked Almonds
500g Puff Pastry
8 Plums
Demerara Sugar
1 tub Vanilla Ice Cream (to serve)
Method
Make the frangipane by beating the sugar and butter together, adding the sugar bit by bit. Stir in the eggs, plain flour and ground almonds before folding in the nibbed almonds.
Roll out the puff pastry to 2-3mm thick and cut out four 10cm circles. Allow to rest for 10 minutes then prick all over with a fork. Pre-heat the oven to 210 degrees.
Spread a layer of frangipane over the discs leaving a gap at the edge all the way round.
Quarter the plums and remove the stones. Slice them as thinly as possible and lay them on top of the frangipane so they are tightly overlapping all the way round. Sprinkle the plums with a pinch of demerara sugar.
Bake the tarts for 10-12 minutes until the pastry is golden brown and crisp. Serve with vanilla ice cream.