Mini Pavlovas by Audrey Jestin
Mini Pavlovas by Audrey Jestin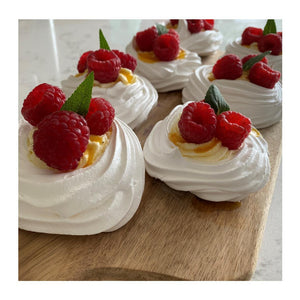 INGREDIENTS:
MERINGUES:
4 egg whites
220g caster sugar
CREAM:
150ml pint double cream, whipped
2 tbsp Icing Sugar
TOPPING:
Raspberries
Passion fruit coulis
Mint leaves

Method
1. Preheat oven to 130 degrees.
2. Place egg whites into a bowl. Beat with electric beaters until soft peaks form.
3. Gradually add caster sugar, beating well between each addition. Beat until mixture is thick and glossy.
4. Spoon heaped tablespoons or piped swirls of the mixture onto baking trays.
5. Flatten meringue into a disc. Bake for 20-25 minutes or until crisp. Cool completely in the oven.
6. Gently mix together cream and icing sugar.
7. Arrange meringues on a serving dish. Spoon cream mixture into centres of meringues.
8. Add the passion fruit coulis. Add the raspberries and mint