Harissa Slow Cooked Beef with Houmous, Homemade Pitta Bread, Shepherd's Salad and Tzatziki by Chef Chris Phypers
Harissa Slow Cooked Beef with Houmous, Homemade Pitta Bread, Shepherd's Salad and Tzatziki by Chef Chris Phypers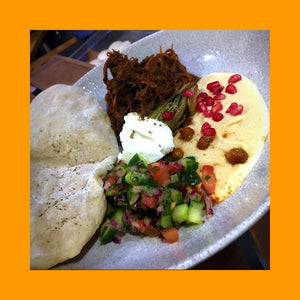 Serves 4
Harissa Beef
1.5kg Beef Short Ribs
1tbsp Belazu Rose Harissa Paste
Pinch of Salt
½tsp Ground Cinnamon
½tsp Ground Cumin
½tsp Ground Fenugreek
½tsp Ground Turmeric
1 Pomegranate
Method
Pre-heat the oven to 180 degrees. Rub the beef with the rose harissa paste, salt and spices. Heat some oil in a pan and seal the meat, turning until it is browned all over.
Add to an oven-proof dish with 3 cups of water, cover and slow cook in the oven for 3 – 3.5 hours until tender, adding more water if it starts to evaporate. Once cooked, allow to rest then pull the meat away from the bones using a fork.
Leave the juices in the pan and place on the hob on a medium heat. Reduce to a sauce consistency and add the meat back in. Halve the pomegranate, remove the seeds and sprinkle over the meat.
Homemade Pitta Breads
150g Plain Flour
Pinch of Salt
350ml-450ml lukewarm Water
1tbsp Olive Oil
Method
Mix the flour and salt before adding the water. Mix to a smooth dough, adding more flour if the mixture becomes too sticky. Knead for 5-10 minutes.
Place in a bowl and drizzle over the olive oil. Leave to rest for 2-3 hours.
Divide the dough into 4 balls and roll out on a floured surface into a thin flatbread shape.
Heat up a skillet or grill plate and cook on each side for 1-2 minutes.
Shepherd's Salad
3 Tomatoes, deseeded and diced
½ Cucumber, peeled and seeds removed
1 Red Onion
20g Parsley, finely chopped
2 Mixed Peppers, diced
25ml Olive Oil
Juice of 1 lemon
Salt & Pepper to season
Method
Prepare the salad ingredients before pouring over the lemon juice and olive oil. Mix well until all the ingredients are covered then sprinkle over the finely chopped parsley.
Tzatziki
65g Greek Style Yoghurt
¼ Cucumber, grated
Fresh Mint, finely chopped
Fresh Parsley, finely chopped
1 clove of Garlic, crushed
Pinch of Salt
Juice of ½ lemon
Method
Mix all the ingredients together, adding more mint, parsley or garlic to taste.
Houmous
100g Chick Peas, drain but save the water
1tbsp Lemon Juice
½tbsp Tahini
1 clove of Garlic, crushed
Salt & Pepper
Method
Use a stick blender or food processor to combine all the ingredients. Add some of the reserved chickpea water for a smoother finish.
For flavoured houmous, add 15g chermoula paste or 8g pureed preserved lemons.