Risotto by Marco Londero
Risotto by Marco Londero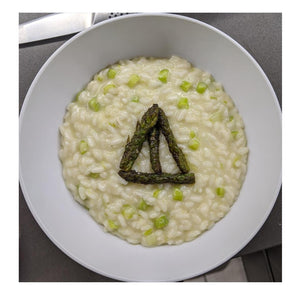 Ingredients used for the vegetable broth:
- carrots
- celery
- onions
- parmesan rinds
- asparagus' skin

Ingredients for the risotto:
- onion
- garlic
- olive oil
- acquerello rice
- unsalted butter
- parmesan
- asparagus
- salt
- pepper


Method:
1. The recipe is the classical risotto: brown finely chopped garlic and onion, toast the rice, slowly add the boiling broth one ladle at the time until rice is perfectly cooked.

2. A note to enhance flavour: melt the butter with asparagus skin, filter it and put it in the freezer. Add the frozen flavoured butter once rice is cooked, together with parmesan cheese and whisk it until creamy.

3. I must be honest with you... the parmesan cheese isn't coming from you guys, we buy it at source near Parma and the olive oil is from Puglia. :P

4. For dinner, I added a potato to the vegetable broth, mixed until creamy and served with some pitta bread croutons.