Pasta con pomodoro e ricotta by Karla Richards
Pasta con pomodoro e ricotta by Karla Richards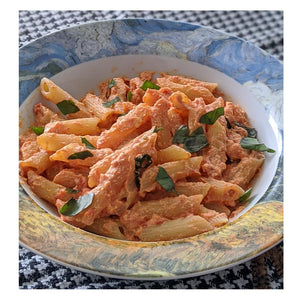 Ingredients:
Penne or other short pasta (spirals, tubes, etc) 80-90g per person
One tin of chopped italian tomatoes
One tub of Galbani ricotta cheese
2-3 tablespoons of oil
1 large clove of garlic
2-3 sprigs of fresh basil, torn into small pieces
salt


Method:
1. First bring a full pot of water to the boil. Add a generous palmful of rock salt or kosher salt to the water. Once the salt has dissolved, drop the pasta in. Check the pasta at one or two minutes BEFORE the stated time on the packet as you don't want it overcooked!

2. While the pasta is boiling, peel and crush (but keep in one piece) a large clove of garlic and fry for a minute or two until fragrant in the olive oil.
Pour in the entire can of chopped tomatoes, stir and cook over medium-high heat until the liquid is reduced and it is thickened. Then add in the basil and stir. Cook for a further minute.

3. About 1-2 minutes before the pasta is ready, reduce the heat on the sauce to low. Remove the garlic clove and discard. Stir in the tub of ricotta until smooth. Add salt to taste.
4. Drain the pasta, reserving a bit of the cooking water. Mix the pasta and sauce and add a spoonful or two of the cooking water if the sauce seems too thick.
Sprinkle with more torn fresh basil and serve.